Quick Sound Switch

Version 2.11

- freeware -
Download Version 2.11: QuickSoundSwitch.exe (english + german / 108 kb)
(Windows 2000+XP / 11. feb. 2007 )
Older versions:
Version 2.1: QuickSoundSwitch.exe (english+german / 107 kb)
Version 2.0.2: QuickSoundSwitch.exe (english+german / 104 kb)
Version 2.0.1: QuickSoundSwitch.exe (english / 104 kb)

What is QuickSoundSwitch?

QuickSoundSwitch is a small System Tray tool, which allows you to switch the default sound device with only one click.
It is useful for PCs with more than one soundcard (or for example soundcard + usb headset..)!
A lot of windows programs like games, media players etc. are using the default windows sound device.
So, since I got two soundcards in my computer, I really got pissed about changeing the output device in the Control Panel all the time.
I was searching the web, but could not find a program to get rid of this..
new in Version 2.0
command line support,
Detailed volume-settings (wave, midi, microphone..) for each soundcard on startup and/or shutdown.
shortcut wizzard to auto. change soundcard on your special applications,
multi-soundcard - volume control
Soundcard niknames,
Hotkeys
...
Main dialog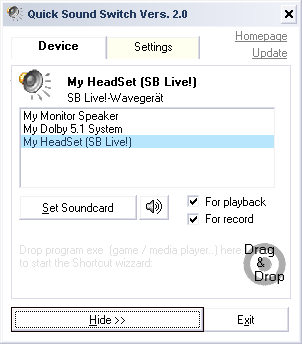 Settings dialog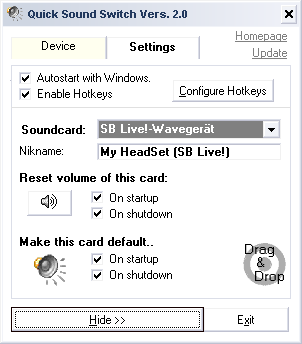 Multi volume control (System Tray)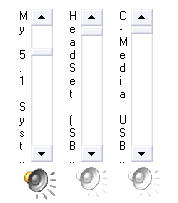 Volume Mixer
(You can cycle through the Soundcards + restore a saved Profile on startup)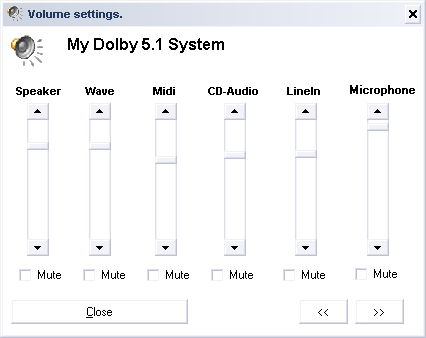 Shortcut wizzard (drag & drop)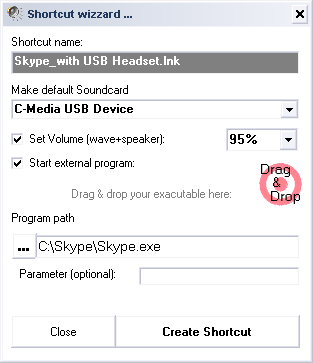 Hotkeys configuration dialog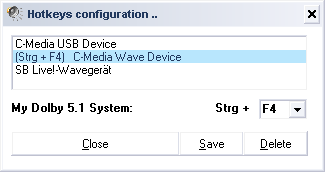 QuickSoundSwitch.exe D=Devicename, V=Volume, R=Program, P=Program parameter
D= Soundcard name or number (to make default)
V= Volume wave + speaker (0-100) (optional)
R= (Run program when Settings are made
P= Program parameter (only allowed with parameter R= ) (optional)
Two examples:
Make the SoundBlaster Live! default, set the volume to 100% and exit:
..\QuickSoundSwitch.exe D=SoundBlaster Live! V=100
Make the USB-Headset default, set volume to 85% and run skype after that :
..\QuickSoundSwitch.exe D=USB Headset C-Media V=85 P=C:\Programme\Skype\Skype.exe
Tip:
Even with this utility, most Windows programs canít switch audio devices while running.
Windows Media Player, for example, will play onto the selected playback device when it starts up, and will continue outputting to it even if you switch devices while itís running.
So, this utility saves you the trip to the Control Panel to change audio devices, but you still need to restart any audio programs you may have already opened in order for the switch to affect them.
But Version 2.0 comes with a "Shortcut wizzard" to solve this problem: It creates shortcuts to your Application / Game .. which automatically switches the Soundcard even before the App. / Game starts.
Questions? problems?: